My Mom and I traveled to Nashville yesterday for a fun day of holiday baking, I had to share what we made. It was a lot of fun and we were all worn out by the end of the day!
We made these cute Christmas cookies, and found them on Pinterest, you can also see the recipe
here
And we also found these "Grinch cookies" on Pinterest.
INGREDIENTS:
1 pouch (1 lb 1.5 oz) Betty Crocker® sugar cookie mix
1/2 cup butter or margarine, softened
1/4 to 1/2 teaspoon mint extract
6 to 8 drops green food color
1 egg
1 package Andes Mints
1 cup semisweet chocolate chips
DIRECTIONS:
1. Heat oven to 350°F. In large bowl, stir cookie mix, butter, extract, food color and egg until soft dough forms. Stir in chopped Andes Mints and chocolate chips
2. Drop dough 2 inches apart on ungreased cookie sheet.
3. Bake 8 to 10 minutes or until set.
We then made Paula Deans Peppermint Bark, so easy and so yummy!
Ingredients
Crushed candy canes, to yield 1 cup
2 pounds white chocolate
Peppermint flavorings, optional
Directions
Place candy canes in a plastic bag and hammer into 1/4-inch chunks or smaller. Melt the chocolate in a double boiler. Combine candy cane chunks with chocolate (add peppermint flavoring at this point if desired.) Pour mixture onto a cookie sheet layered with parchment or waxed paper and place in the refrigerator for 45 minutes or until firm. Remove from cookie sheet and break into pieces (like peanut brittle.)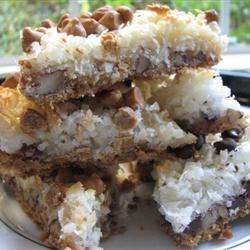 We also made
these
Magic cookie bars (We found the recipe on the back of a can of cond. milk) Also yummy and easy!
These are yummy as well, they taste like thin mints but all they are is Ritz Crackers, dipped in some melted chocolate with some peppermint extract and sprinkled with crushed up candy canes. Super super easy!
Then we made Oreo Bark (I cannot find the recipe) and Greek Baklava (my Moms recipe, I will have to get) , yummy!!!
For lunch we had a Greek salad, spinach pie and this other tomato basil soup appetizer. All you do if poor 2 things of tomato basil soup, mix goat cheese and cream cheese and spoon in the soup. Broil for a few minutes until brown and eat with bread seasoned with olive oil, basil, garlic salt and pepper... Mmmmm Mmmmm....
I think that is all... do you think that's enough? HA. What a fun day of laughs, Christmas music, and baking... who doesn't love this time of year?